Primary students unveil vibrant mural designed for Westfield North Rocks
09 May 2014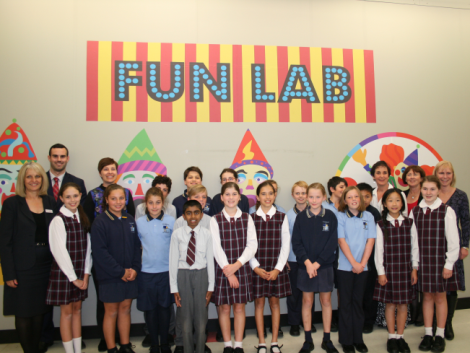 Students and teachers from St Monica's Primary and Christ the King Primary at the unveiling
Students from St Monica's Primary, Parramatta North and Christ the King Primary, North Rocks were invited to a special private party at Westfield North Rocks for the unveiling of large format wall mural the students designed collaboratively over Term 2.
The schools were approached by Westfield to design a large-scale mural to provide the backdrop for the new Fun Lab play area at the North Rocks centre. Teachers at St Monica's and Christ the King selected 10 students from Year 6 to take part in the project.
The students worked together during Term 2 to generate ideas, sketch designs, vote on the best concepts and produce digital designs using specialised software.
Students were thrilled to see their work unveiled and received travel mugs featuring their graphic designs as a thank you from Westfield. They proudly showed off their work to their families before enjoying a party and a chance to test out the new play equipment in the Fun Lab.
Sharon Boulos, who teaches Year 5/6 at St Monica's Primary said the students have really enjoyed getting to know each other.
'So many new friendships have formed and the students have really valued the opportunity to work together with students from Christ the King,' said Sharon.
Year 6 teacher Helen Nafranowicz from Christ the King Primary said the project was the first that allowed her students' work to be seen by the whole community.
'They will see their own work every time they visit the shopping centre and know that their work has an audience beyond the school community which is something they're very proud of,' said Helen.
Teacher Patrick Vidot, also from Christ the King Primary said the students really enjoyed the opportunity to be involved in the design process from start to finish.
'The students were given creative control for this project and they should be very proud of the work they've created for the community to enjoy,' said Patrick.
Facebook
16 May 2023

Year 6 had a great time last Friday when they surprised their teacher, Mrs Boules, with a Baby Shower! 💙💙💙💙 They were very excited to celebrate the upcoming arrival of her baby boy with a very blue-themed party, including fun games and lots of presents! Year 6 can't wait to meet the little baby boy very soon! 💙🌟

12 May 2023

Mother's Day at Christ the King 🌷🌸🌺🌻🌹🌼 Part 2: Morning Tea Picnic and Activities ☕🍪🖍 The sun was shining ☀️as we continued our Mother's Day Celebrations with a morning tea picnic, photo booth, craft and other fun actvities with our wonderful mums.