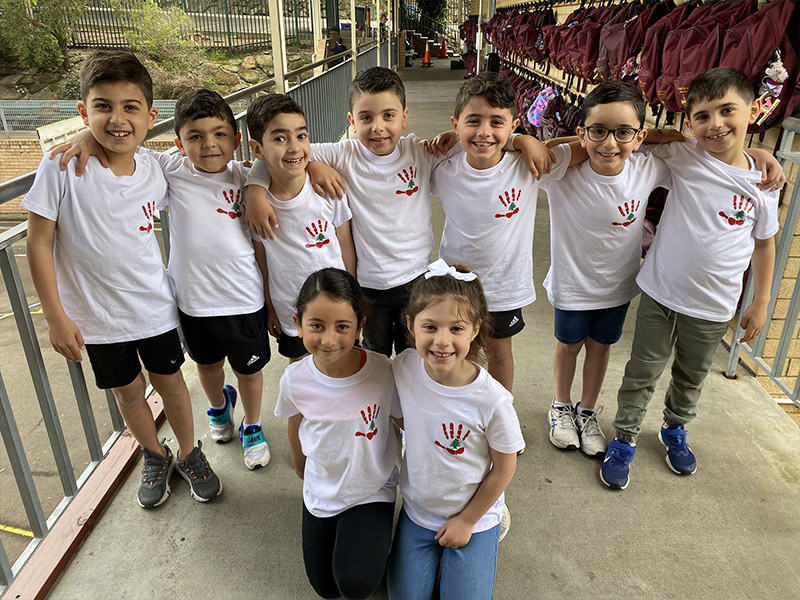 Students at Christ the King Primary North Rocks dressed in red, white and green to show their support.
Six weeks on from the explosion that devastated the Lebanese capital, the resulting humanitarian crisis remains in the thoughts and prayers of the Catholic education community of Western Sydney.
Catholic Education Diocese of Parramatta students have also put their faith into action with fundraising efforts to support the people of Beirut at a school level.
Our Lady of the Angels Primary Rouse Hill, St Patrick's Primary Guildford, Our Lady Queen of Peace Primary Greystanes, and Christ the King Primary North Rocks are just a few of the schools involved in appeals to raise funds or collect aid bundles to be sent to charitable organisations assisting with the support and provision of essential food and medical supplies. Some school communities have held mufti days with students wearing red, green and white at these events to demonstrate their solidarity with Lebanon in a time of major crisis.
Relieving Executive Director Christine Howe is proud of student support of this important cause.
"It is wonderful to see our school communities showing such care and concern for the citizens of Beirut, especially in such a tangible way that will make a real difference to the lives of so many people," Christine said. "The Gospel messages of love and compassion are at the heart of our Catholic schools and this is evident in these efforts to support the people of Lebanon during this devastating time."
Relief efforts also received support from the Diocese of Parramatta last week, with Bishop of Parramatta, Vincent Long OFM Conv, presenting a donation toward the Maronite Beirut Disaster Relief Appeal to visiting Maronite Bishop of Australia, Antoine-Charbel Tarabay OLM.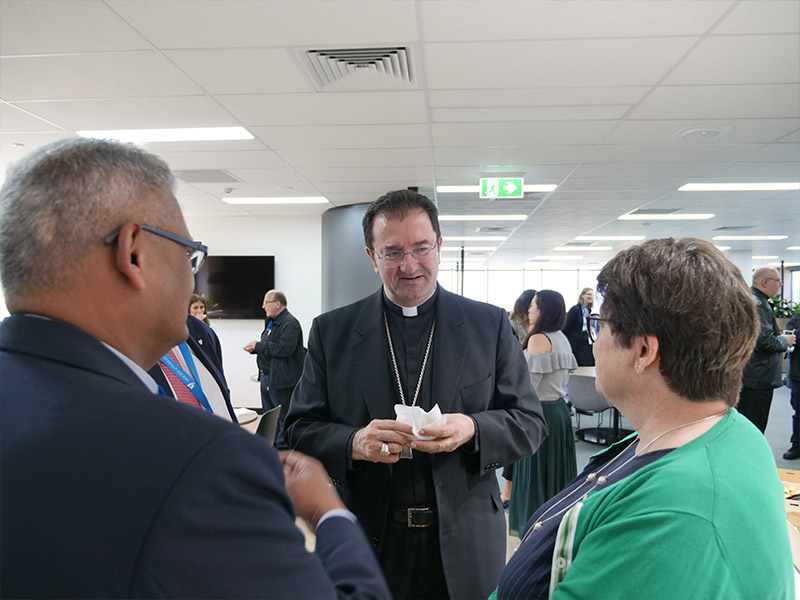 Bishop Antoine-Charbel Tarabay OLM, Maronite Bishop of Australia with Fr Chris de Souza and Monica Officer. Image: Diocese of Parramatta.
"The Maronite Eparchy of Australia and the Diocese of Parramatta have had a long and fruitful relationship," Bishop Vincent said. "Many Maronite Catholics worship in our parishes and, of course, many more young students attend our systemic Catholic schools."
"Our sense of partnership and solidarity extends to the Maronite community and we are very much in solidarity with the Lebanese community."
This was the first time a Maronite bishop has visited the Chancery office of the Diocese of Parramatta, shared with Catholic Education Diocese of Parramatta. Christine Howe, Director Mission Monica Officer and other staff welcomed the opportunity to meet with Bishop Antoine-Charbel.
Bishop Antoine-Charbel thanked the Diocese of Parramatta for its generosity and warm welcome during his visit, saying: "I am touched by this meeting and the support being offered. I look forward to working together to spread the Word of the Gospel."
The Beirut Disaster Relief Appeal run by the Maronite Diocese of Australia in collaboration with Maronites on Mission Australia will provide medical assistance, food packages and home repairs. Donations can be made via www.maronitesonmission.com