Over the year the Sydney Academy of Chess run chess lessons every Wednesday after school through the Term. We have a regular group of students who attend each week ranging from Kindergarten through to Year 6. Chess is also a popular activity in the library at lunch time.
Last term we had two very talented students, Louis Year 5 and Caleb Year 4 attend an inter-school chess tournament. They both competed extremely well with Louis coming in 3rd overall on the day out of over 100 players! Congratulations to both boys on representing our school so well.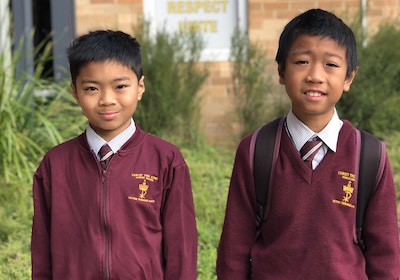 Earlier this term, 33 students attended the Hills District One Day Chess Team Tournament at Murray Farm Public School. Ably supervised by Mrs Atkinson, our students once again showed great sportsmanship and impressive skills whilst playing seven games in the day each. For many students, this was the first time they have played in a competition environment with chess timers.
On Thursday 21st November, 17students stayed back after school to compete for the Christ the King Chess Championships 2019. This is a hotly contested event with students using all the knowledge they have learnt through the year to triumph. This year's Chess Champion are:
Chess Champion - Alex D
Runner Up - Caleb C
2nd Runner Up - Ignatius L
Highest Finisher Year 2 & 3 - Paul R
Highest Finisher Infants - Jake N